15. Dezember 2016
Tickets! There will be tickets!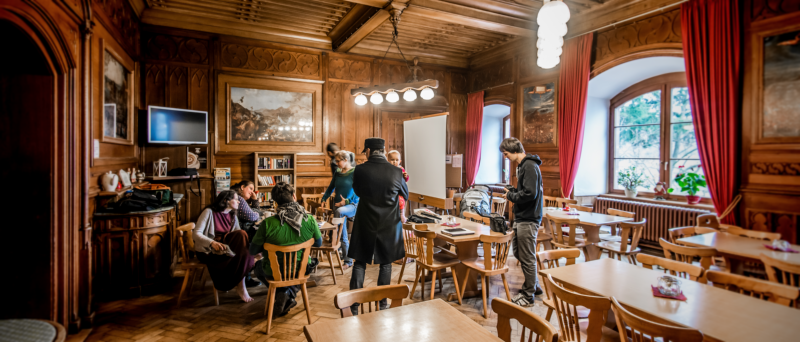 Perhaps one of the most important things to think about when you're planning a LARP is: How much will it cost? Or to be more precise: How much does it have to cost? So you have to calculate quite thorough. General stuff as the price of a location, including accomodation and food. Game related stuff as what do we need to pull off a secret international government facility. In the eighties? What budget do we need for props, sets, gadgets and some nice treats and surprises for our players and NPCs? What can we do by ourselves, what do we have to outsource (and probably pay for)?
We plan to give you some peeks behind the scenes at this place. We think, this could be quite interesting for you, especially when we begin to build stuff and prepare costumes and set pieces. If you have suggestions for what to talk about or if you are curious about something in the emergence of Zeitgeist, tell us.
Since 8pm CET today the ticket sale is open.
We like this to be as data responsible as possible, so we are offering two ways to buy them:
One is the quite common way over a ticket sale provider (billetto) that offers all possible online transaction methods like PayPal or Credit Cards. It's fast and convenient and you don't have to do complicated stuff with a bank transfer, especially from abroad (but there will be an additional fee for the service provider).
The other is the one you can choose if you don't want to give your payment data to the internet: If you register here on the website, your name and adress information will only be visible to us. By registering, you have your ticket safe and we will send you a confirmation mail with our bank account and you will have two weeks time to initiate a bank transfer with your payment.
And don't worry: You will not have to make any player/character choices at this point. The character development will happen later and you will have enough time to think and discuss everything related to it.
Another thing: Please think about purchasing a Player Plus Ticket, if you are financially able to and like to enable a reduced Ticket for other players. By doing that, we will be able to give out Subsidised Tickets to people who otherwise couldn't afford to participate. For every sold Player Plus Ticket we will stock a Subsidised Ticket with the same price reduction of 40 Euros, that the Plus Ticket is increased.